The members of DunedinHOST Board are all active in tourism businesses and organisations in and around Dunedin. Each member is attributed a specific part of the Tourism Sector. If you would like to contact a board member with regards to any issues with that sector please email them using the email address provided below.
Please note: The Dunedin Host Board meets regularly throughout the year.  If you have something you would like the board to discuss please contact a board member via or email:  info@dunedinhost.co.nz
Caroline Cook
Caroline Cook grew up in Wanaka, and after completing a BCom in Marketing Management from Otago University, spent too long in Wellington and Auckland before returning to Dunedin 18 years ago. She was marketing consultant to three major hotels, the Carlton and Waipuna Hotels in Auckland, and the Plaza International in Wellington; and marketing manager for Pionair, which flew a restored DC3 from Queenstown. She freelanced in Auckland for media, exhibition, publishing and design, and managed key sponsorships including Russell Coutt's Team Magic, and Sir Peter Blake support of Bayswater Marina.
In Dunedin she was founding director of the Dunedin Heritage Festival and NZ International Science Festival, worked for TVNZ before spending six years with NHNZ.
She is the sector representative on the DCC Premier and Major Events Funding sub-committee.
Craig Lee
craig.lee@otago.ac.nz
Dr Craig Lee is a lecturer in the Department of Tourism at the University of Otago.  Across his teaching experience he has taught hospitality and tourism subjects related to research methods, enterprise management, entrepreneurship and small business, festivals and event management, marketing, and business ethics.  Craig's current research interests lie in the fields of innovation and entrepreneurship in hospitality and tourism, with the goal of identifying how these two factors can enhance the performance of small and medium sized hospitality enterprises.  He has also been involved in consultancy work within Australia's restaurant sector.  In a previous life Craig used to work in hotel and restaurant operations, explaining his passion for research in this sector.  Further information about Craig's background and research can be found at: http://www.otago.ac.nz/tourism/staff/otago556401.html
Paul Phelan
p.phelan@larnachcastle.co.nz
New to the Dunedin Host Board, Paul has been the General Manager of Larnach Castle since March 2015. Paul has been involved in the Hospitality and Tourism industry for over forty years, stemming back to where it all started as an Apprentice Chef at the world renowned Banff Springs Hotel, Banff, Alberta, Canada. Gaining plenty of experience throughout the world until he landed in New Zealand in 1983. Before moving to Dunedin Paul lived in Milford Sound for 7 years where he was on the Milford Sound Community Trust & held the position as Operations Manager for Real Journeys
Sophie Barker
Sophie's background includes decades of management, operations and marketing at Larnach Castle, her family home and business for 40 years where she led the marketing and operations and grew the visitation to over 100,000 people. She also has a Bachelor of Commerce in Economics, an EDIT Fellow of the University of Hawaii and the Institute of Directors governance course qualification.
Sophie spent seven years as the Dunedin City Council's Business Development Advisor for tourism in the Economic Development Unit where she looked after:
• destination management- helping ensure that Dunedin met and exceeded visitors expectations, advocating within DCC for visitors to Dunedin especially during planning processes and working to manage expansive cruise growth.
• operator support – assisting new and current tourism businesses with business planning, advice, upskilling and plugging businesses into visitor industry network and business advice.
• working with Tourism Dunedin to negotiate Statement of Intent, manage LGA02 reporting procedures and liaison with council.
As well as her current marketing role with the Otago Peninsula Trust Sophie is currently Chair of the Otago Chamber of Commerce Tourism Committee, Trustee for the Midwinter Carnival and a member of the Cruise Action Group. Past involvement as Tourism Dunedin Board Member, Dunedin Host Board Member, Trustee of NZ Gardens Trust, Advisory Board to Otago University and Otago Polytechnic committees and TIA Activities Council.
Adrian Clifton
adrianc@scenichotels.co.nz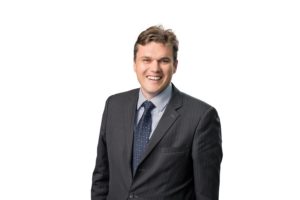 Adrian is the General Manager of Scenic Hotel Dunedin City. He has been in the industry for over 25 years, working in a variety of hospitality establishments from country clubs and small luxury hotels to resort hotels and convention centres. Adrian moved from the UK in 2009 and joined the Scenic Hotel Group in 2012, initially at Scenic Hotel Southern Cross and later returning to Dunedin in 2016
Clare Van Elst